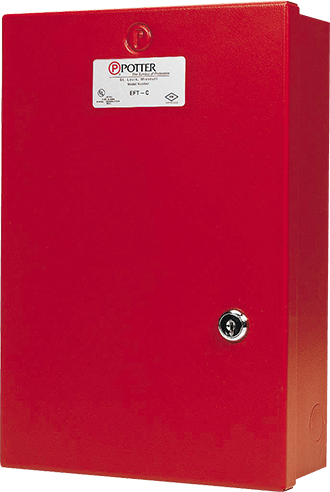 EFT-C
Obsolete Product
Coded Electric Fire Alarm Transmitter
---
The Model EFT-C is an electric motor driven transmitter for use on McCulloh type signal circuits.
The transmitter provides a Class A supervised detection circuit for connection of NORMALLY OPEN devices such as heat sensor thermostats, smoke and ionization detectors, waterflow alarm switches and manual pull stations. The EFT-C utilizes an external low voltage plug-in transformer. A built in battery charger maintains the battery which provides in excess of 72 hours of standby operation. A low battery sensing circuit insures battery integrity.
Dry SPDT alarm contacts are provided and an optional plug-in relay is available to provide SPDT trouble contacts. An electronic retard provides approximately 60 seconds delay on waterflow alarm transmission if desired.
An adjustment on the circuit board provides transmitter motor speed adjustment from 1 to 4 code pulses per second.
---